Liberated Voices! 2023 Online FREE Summer Workshop Series
Liberated Voices is a multi media/multi genre workshop series that aims to highlight marginalized voices. We have courses on topics ranging from journalism, poetry, and short story, to creative writing and drag. Students are encouraged to sign up for any and all workshops that interest them, and the experience will culminate in a final showcase where they will present all of your hard work to an audience of parents and peers! These workshops are for youth aged 11-21. If you are a youth interested in co-leading a workshop with a seasoned instructor, please reach out
All courses are FREE thanks to our generous donors! You can support the creation of future workshops by donating at the top of the page– 100% of funds raised go to instructors.
Developing Your Voice Through Creative Writing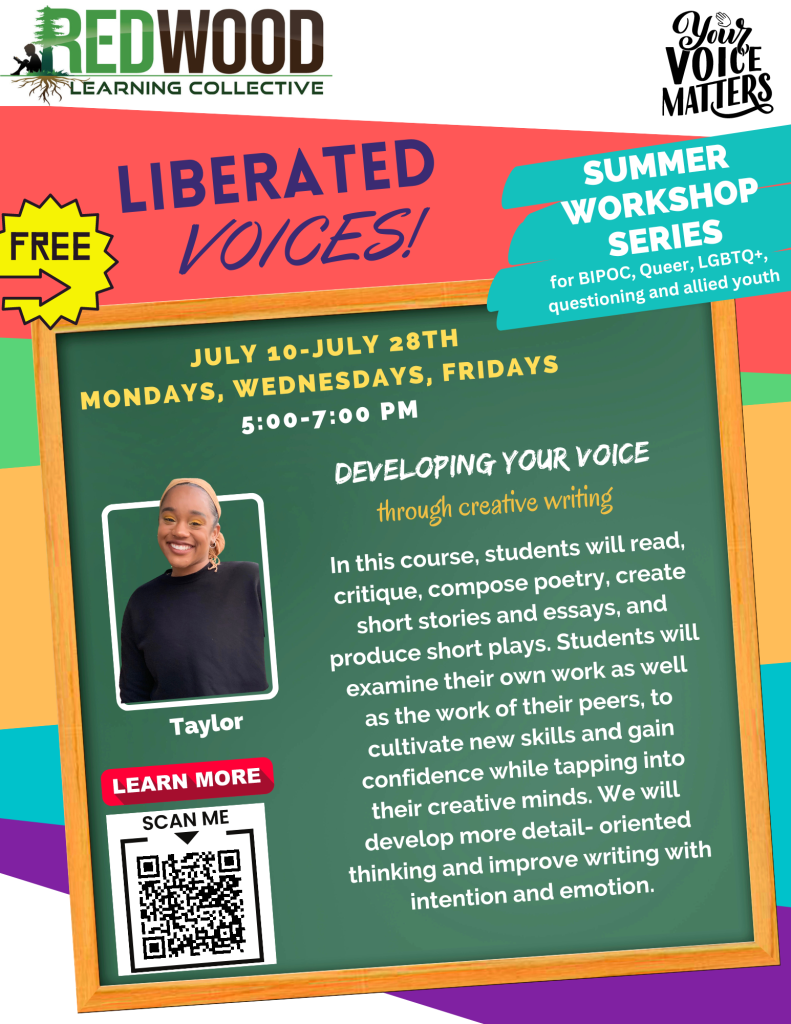 Dates & Times
July 10 – July 28th
Mon, Wed, Fri 5:00-7:00 PM
Course Objectives:
Students will learn to identify tone, character, setting, conflict, and theme.
Students will learn techniques to draw the reader in and keep them both engaged and interested while connecting their own experience and emotions.
Taylor (She/ Her + He/Him) is a Black Queer educator residing in the Bay Area. With a BS in Human Development and a minor in American Sign Language, Taylor brings a new and innovative approach to nurturing creativity and expression in today's youth. Taylor is currently an instructor working with Oakland Unified School District.
Drag For Everyone 101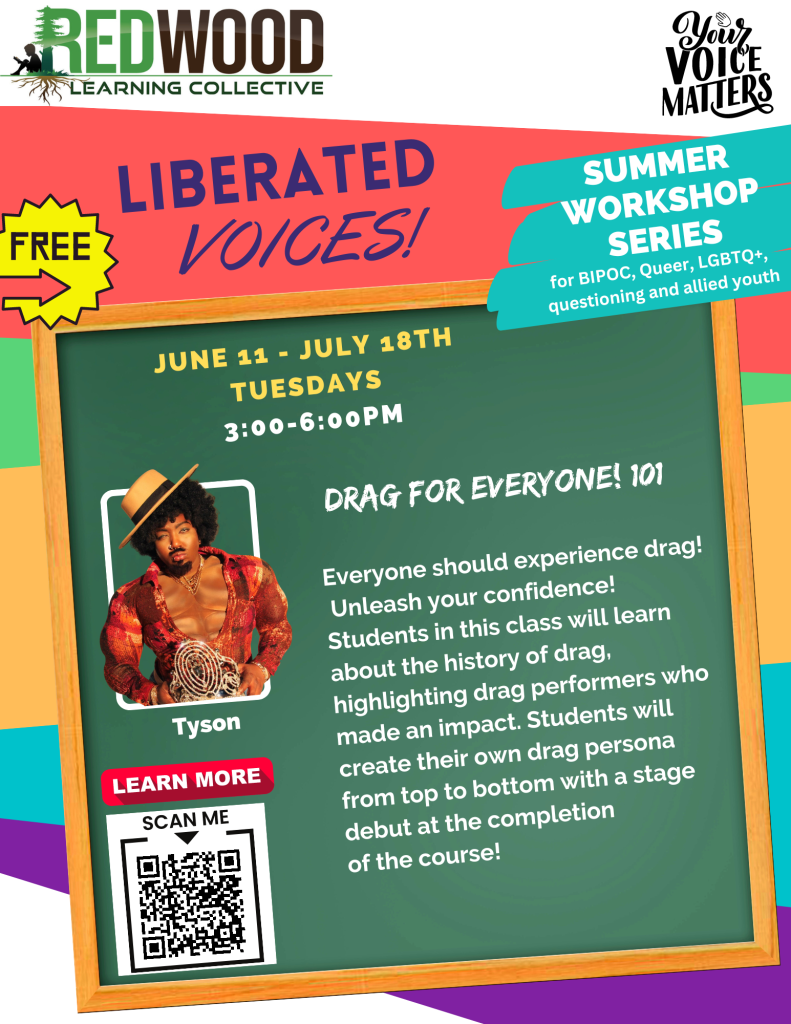 Dates & Times
June 11 – July 18th
Tuesdays 3:00 – 6:00 pm
Course Objectives:
Students will learn drag history, create a drag persona, create 1-2 looks, and develop 1-2 acts
Students will prepare a finished piece for a recital at the completion of the course
Tyson (He/him) is a black queer female who is a fulltime performer/producer and DJ in the LGBTQIA+ nightlife in The greater San Francisco Bay Area. He has been performing since 2010 and producing since 2006. Tyson is also a grant recipient from The SF Nightlife Fund and Little Boxes Theatre. He is an international artist, having toured Europe and the UK solo for 10 yrs and will be heading to Japan in April.
The Queer Short Story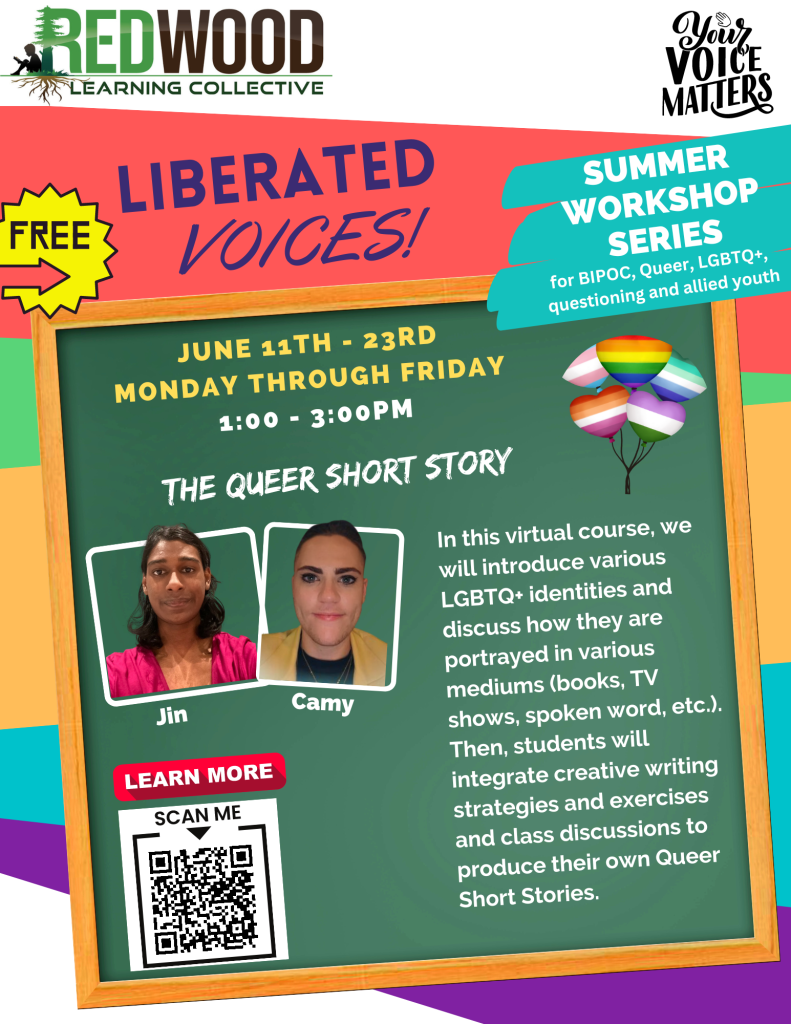 Dates & Times
Now Offered on demand- please reach out if you are interested in creating a group to attend this class
Course Objectives:
Students will be to name various identities under the queer and trans umbrellas
Students will analyze the portrayal of LGBTQIA+ representations in various mediums (Books, TV shows, song lyrics, spoken word)
Students will learn and apply different writing techniques to construct their own creative final projects
Students will have fun, make new friends and celebrate their queer and trans identities!
Camy Seitz-Cherner (They/Them) has over 9 years of experience tutoring youth and young adults. They are the co-founder of the Redwood Learning Collective, a democratically run worker-owned business. They have seen the transformative effects of culturally restorative curriculum on marginalized students– learning difficulties can be mitigated when students feel affirmed in their identities. This is why they co-started the Liberation Voices! Workshops, which are run by students and adults with lived experience navigating different marginalized identities. Camy is queer and transmasculine/non-binary and also an avid writer. In their free time, they like to surf, write fiction and poetry, farm, drum, blacksmith, and dance with their queer & trans dance team!
Jin Das (She/Her and They/Them pronouns) is a transfeminine nonbinary student who will be starting her first year in college in the fall. She loves talking with LGBTQIA+ people about identity and shared experiences. She is one of the leaders of her school's GSA and has a particular interest in activism. She helped run a bake sale to support the Trevor Project, organized an event to distribute pronoun stickers in order to support Trans Day of Visibility, and helped organize her school's first pride dance. She co-led an LGBTQ+ writing workshop last summer and hope to continue that work this summer. She also loves reading, writing, drawing, and sewing among many other passions.
Q4P: Queers For Poetry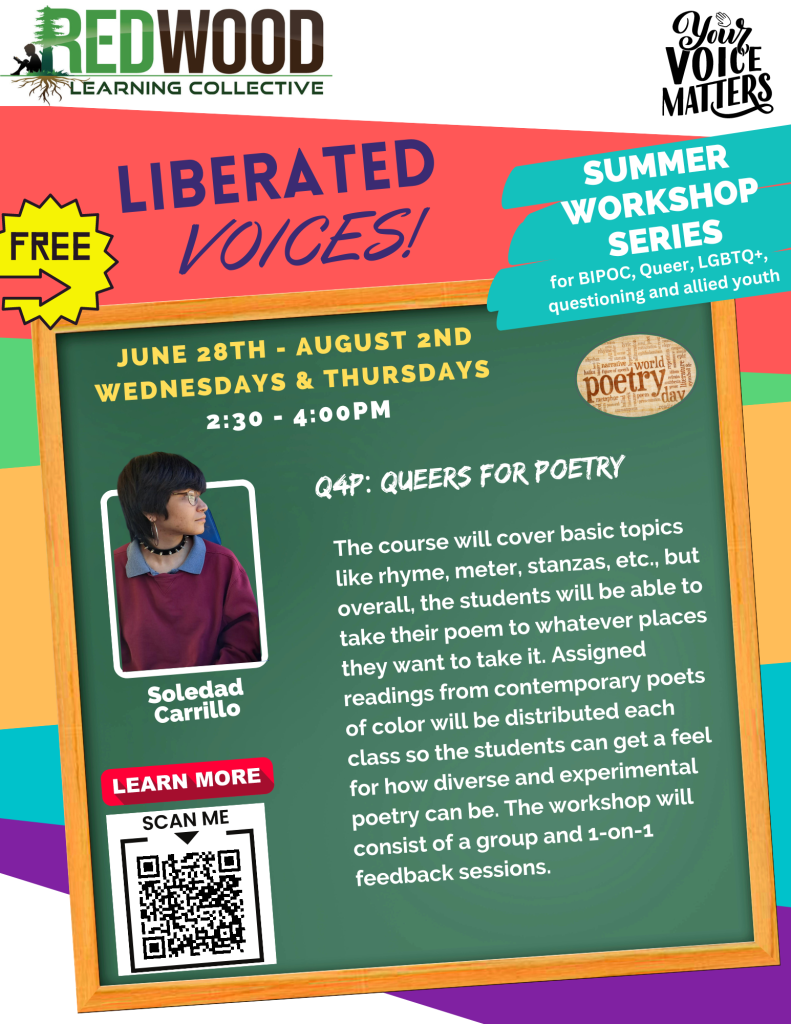 Dates & Times
June 28th – August 2nd
Wednesdays & Thursdays 2:30 – 4:00 pm
Course Objectives:
Students will develop an understanding of poetic structure, different poetic devices, and how to give and receive critiques
Students will discuss contemporary poets
soledad carrillo (he/they) is known as the poet laureate of the San Fernando Valley. They are a first-generation Chicanx poet, mixed media artist, and co-editor of the literary journal Acid Verse. Originally from the heart of the Valley, soledad now represents the 818 on Ohlone Chochenyo land in the Bay Area. Their poetry covers topics like mental illness, taking the bus, punk activities, and loneliness all while exploring their place in the San Fernando Valley and now Oakland. soledad's work is in publications like Razorcake, Sims Library's Poem-a-Week, and VLY GRL. They have read their work at Beyond Baroque and the San Francisco International Flor y Canto Festival.
Wellness & World Building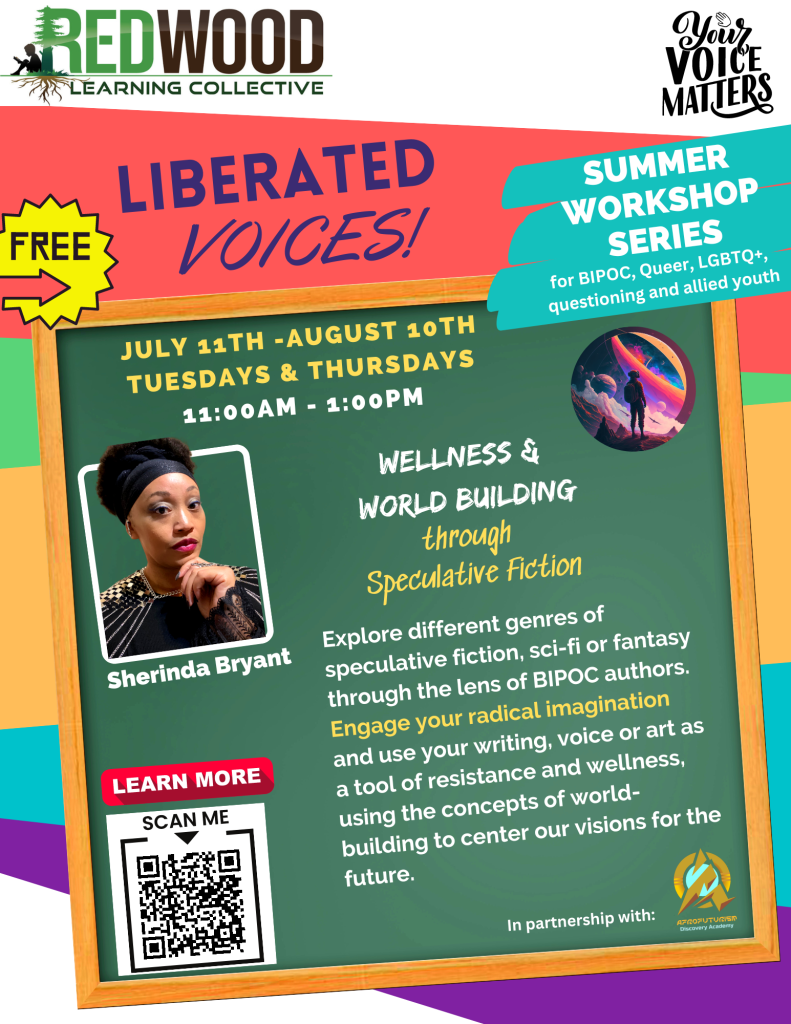 Dates & Times
July 11 – August 12th
Tuesdays & Thursdays 11:00 AM – 1:00 PM
Course Objectives:
Students will explore the different areas of speculative fiction through text excerpts and media, with a focus on exposure to BIPOC authors who build unique worlds through their chosen mediums.
Students will view writing and voice as a tool of resistance and wellness, using the concepts of worldbuilding to center our visions for the future.
Sherinda Bryant (She/Her) has worked in the educational field for 13 years. She has served as an Instructional Associate, a Black Student Union advisor, an English teacher and a Social Justice elective teacher. Social justice has been an important part of her classroom and due to this she was recognized by the California Teachers Association as a 2019 Innovative teacher. Her students not only engage critically with literature, they also participate in discussions and lessons that help them to understand the social issues that surround it. It is very important to her that students be able to see themselves in the curriculum, that it does not produce harm and that she is able to use her activities and discussions to restore positive identities for all.
Sherinda is the founder of Ms. B' C.R.L.S, LLC (Culturally Restorative Learning Supports) where she focuses on providing culturally restorative curriculum, courses and consulting to educators who are looking to improve the cultural learning experiences of students of the African diaspora. Her first student program, The Afrofuturism Discovery Academy, provides these services through the lens of the Afrofuturism genre. In this genre, students are able to discover the wealth and wisdom of their full history while challenging their misconceptions about themselves, the world around them and their future possibilities.
Radical Reporting: Utilizing Writing to Elevate Issues that Matter.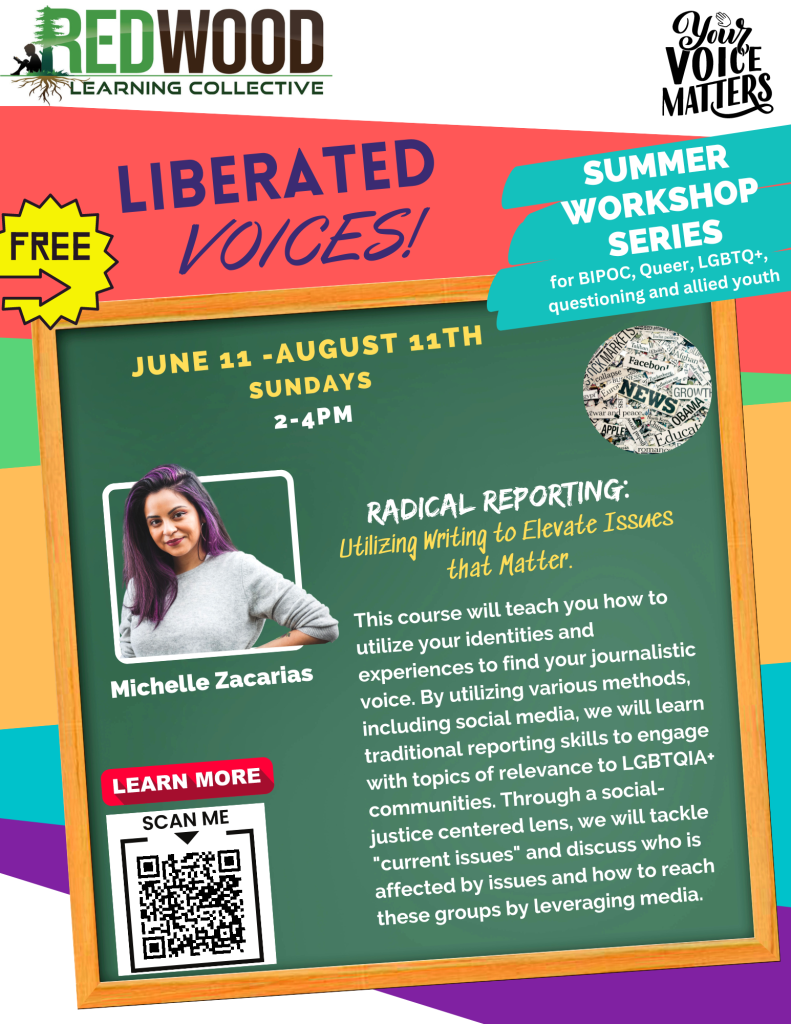 Dates & Times
July 11 – August 12th
Sundays 2:00 – 4:00PM
Course Objectives:
Students will Identify issues of importance in the LGBTQIA+ community
Students will discuss how those issues are related to social justice, including power and privilege, objectivity, and ethics, affect coverage, appropriate language choice and gaps in coverage of local communities.
Michelle Zacarias (she/her) is an award-winning journalist, story-teller and community organizer. She has previously written for Teen Vogue, The Triibe, Latina Mag, People's World, New America and more. In 2018 Michelle was awarded the Saul Miller Excellence in Journalism Award for her contributions to the field. In 2020 she was inducted into Chicago's LGBT Hall of Fame for her work with Brave Space Alliance, a non-profit dedicated to servicing Chicago's south and west side LGBTQIA+ communities. Michelle is currently an Adjunct Instructor at The University of Southern California, where she teaches at the Annenberg School of Journalism.